I wanted to share my experience of what I see as a quite easy (and so far successeful) method of opening glue joints. It has been tested in a community of enthusiasts in Sweden, working mostly with old wrecked up Levins (what else in Sweden?).
I guess the idea came up partly due to lack of more fancy equipment, like steamers.
The idea is to use hot air and expose the joint externally. I have personally used the method for dovetail neckjoints, fretboard overhangs, bridges, and bridge patches (yes, by heating from outside, after removing the bridge).
Some care must be taken to have a far enough distance, so the surface isn´t damaged, and You need to protect the surrounding surfaces from the heat.
Some pictures to illustrate, while removing the neck from a 1964 Goya F-27, which is a Goliath (Dread) with 12-fretted neck, slotted head and fanbraced top. A rather loud machine.
Heating and loosening of the fretboard overhang.
The neck joint is next.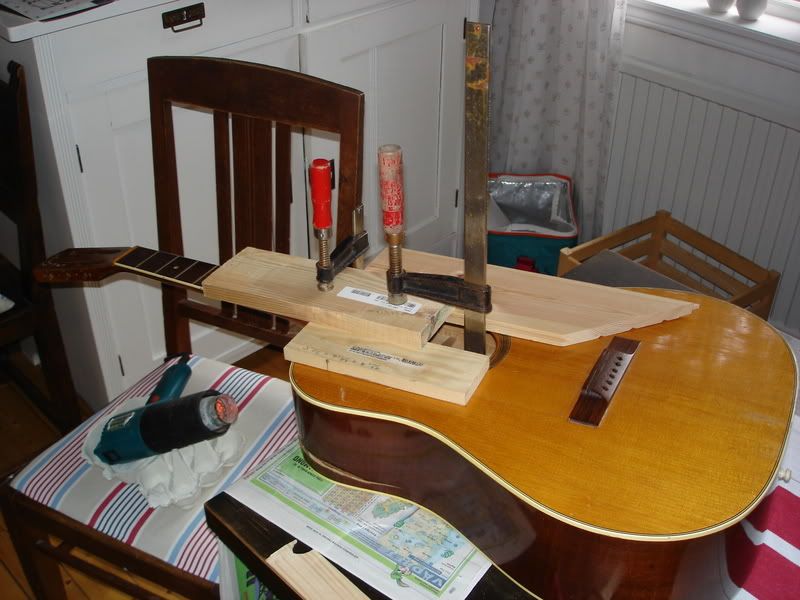 It works quite well, I have used it several times and had no failures. One of the guys on our swedish forum had a bad experience where a pickguard caught fire, but it is a matter of not getting the heat to close. You should be able to stick Your finger in there.