What kind of crack is this?  By the way, this is a Breedlove AD25/SR with a Solid Sitka spruce top.
I found a similar crack on Frets.com.  Are they similar cracks?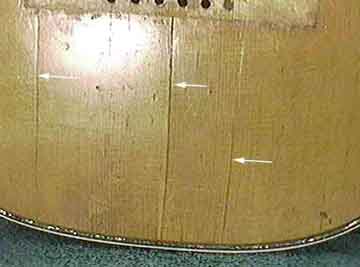 It says the following:
They are structural cracks, but will not affect the longevity of the guitar even if they are left wide open and not repaired at all. Spruce has very little strength across the grain, and the pull of the strings is never in that direction. So, lengthwise cracks have little effect on strength in this area, where the only force is with the grain. The wide bridge (now off the guitar) distributes the load across six inches of the spruce, so it's able to handle the tension very well.
Thanks
Joshua